Sell Your Used Office Furniture
to Discount Office Equipment in Oak Park, MI
---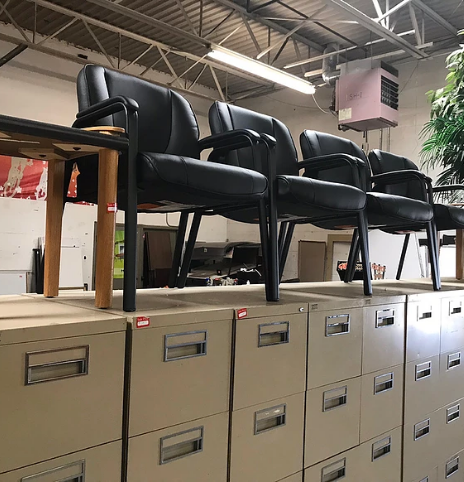 Moving or Updating your Office Space?
We buy previously-owned office furniture in great condition. If you are looking to upgrade your office furniture from our new showroom, but have no idea what to do with your old furniture, give us a call.
We buy gently used desks, storage cabinets, cubicles, seating, tables, and more! For a fair price, you eliminate the hassle of finding someone to take old furniture off your hands, so you can focus on an updated office look. We make the process easy for all of our customers. All we need from you is the number of items, their age, condition, the manufacturer(s), and the date they are available for purchase. Upon reviewing this information, we will make you an offer, and the deal is done.
We Make Selling Your Used Office Furniture a Snap
If you are looking to upgrade your office furniture, ask us about our trade-ins policy. Sometimes, we let you trade-in your old office equipment, and put its value toward the purchase of brand new furniture from our location in Berkley, MI. You can also benefit from Discount Office Equipment's cash-and-carry discount when you pick up your furniture after purchase. Otherwise, anticipate full-service delivery and set up by our four drivers who operate the company trucks. Should you seek both new and pre owned office furniture, we can coordinate between our two store locations, and deliver the individual pieces to you.
Sell Used Office Furniture in Oak Park, MI
Looking to sell your used office furniture in Oak Park, MI? Discount Office Equipment is what you are looking for! With our extensive experience in the industry and a strong reputation for quality, we are your go-to destination for selling and buying office furniture. Whether you're downsizing, relocating, or simply updating your office space, we can help you turn your pre-owned appliance into cash.
We're Experts Specializing in Buying and Selling Used Office Furniture
At Discount Office Equipment, we have a dedicated team that specializes in buying and selling used office furniture. Our expert appraisers will evaluate the condition and value of your items, ensuring you receive a fair price for your pre-owned office furniture.
We accept a wide range of used furniture items, including:
Office desks
Chairs
Filing cabinets
Conference tables
and more.
Whether you have a single piece or an entire office worth of furniture, we have the capacity to handle jobs of any size. Our responsive team will work closely with you to make the selling process as smooth and hassle-free as possible. We have a large network of clients, including small businesses and large companies, who are actively seeking quality furniture at affordable prices. By selling your used office furniture through us, you can reach a broader audience and increase your chances of a quick sale.
We pride ourselves on offering competitive prices. Our goal is to provide you with a clean slate by offering fair compensation for your items. When determining the right price for your furniture, we take into account factors such as:
Age

Condition

Brand

Market demand
You can trust that you'll receive a fair and honest appraisal from our team.
Shop Our New and Used Office Furniture Showroom in Berkley, MI
Not only do we buy, but we also sell a wide range of new and used office furniture in our main showroom located in Berkley, MI. Whether you're looking for desks, chairs, cubicles, or storage solutions, we have a vast selection of high-quality furniture to meet your needs. Our showroom is a one-stop destination for businesses seeking affordable and durable office furniture.
If you're wondering where to buy office furniture, Discount Office Equipment is your answer. Our knowledgeable staff is ready to assist you in finding the perfect furniture pieces for your office space. We offer competitive prices and exceptional customer service to ensure your complete satisfaction.
Don't let your office furniture go to waste.
Contact Discount Office Equipment today and let us help you turn your second-hand furniture into cash. Whether you're selling or buying, we are your trusted partner for all your office goods needs. Visit our showroom in Berkley, MI, or give us a call to get started on your office furniture journey!
Let Discount Office Equipment help with the transformation of your workspace. For a better idea of the types of furniture we buy, or if you are interested in selling them, contact our showroom at (248) 548-6904 or stop into our Oak Park, MI location.