High Quality Furniture at Discount Prices
---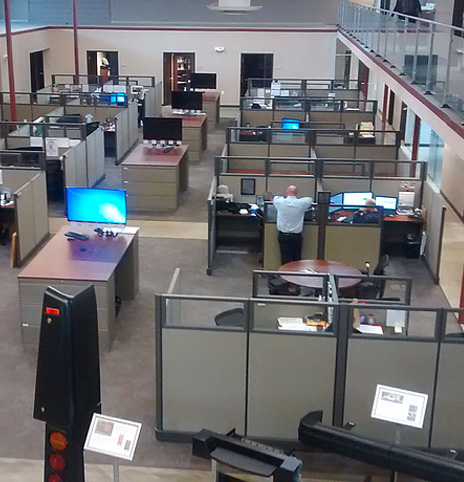 Discover All of Our Amazing Office Furniture in Our New and Used Showrooms
Discount Office Equipment is renowned for serving Michigan businesses with a high selection of cost-effective, quality office furniture for more than 60 years. We have achieved longevity and long-time customers due to our family-owned company that provides helpful and knowledgeable service. Our two convenient locations offer new office furniture in Berkley, and used and clearance office furniture in Oak Park
Anticipate getting a good deal whether you seek one office chair or furniture for your entire company. Our pricing is far better than many of our competitors, as we offer discounts up to 50-60% off the manufacturers' retail price of new furniture and we also have a separate used furniture/clearance center with prices that are nearly a steal.
At Discount Office Equipment, we guide our customers with expertise. They appreciate the strong, trusting relationships, recognize our longevity as a company that will be here for years to come, and our reach throughout Oakland, Macomb and Wayne counties and across the country.
As we are a small company, our customers call us directly, acquire answers quickly, and know that we guarantee our products. Our dedicated owners and employees work together closely to serve our customers with excellence. Mitch Merzin, Neil Merzin, Jeff Merzin, and now 3rd generation Alex Merzin ensure that you acquire the right office furniture to meet your needs… always at an affordable price with delivery and installation.
---
Dive Deeper into Discount Office Equipment's History
After dabbling in army surplus furniture after World War II ended, founder Aaron Merzin recognized the demand at that time for desks and other office furniture and equipment. Thus, in the year 1948, he formed Detroit Office Equipment, investing in a 15,000-square-foot building on Linwood and Philadelphia in Detroit, Michigan, to offer office furniture and equipment to businesses.
The company experienced phenomenal growth, and eight years later the company moved into a 26,000-square-foot building at 6 Mile and Livernois, across from University of Detroit. When a fire ensued in 1965, the business moved to a two-story, 26,000-square-foot facility, at 7 Mile and Lodge. In 1973, the company nearly doubled its space to 46,000-square-feet when it moved to Dearborn.
When Aaron semi-retired in 1978 and worked in the business as a consultant, his three sons, Mitch, Neil, and Jeff Merzin took over the business. In 1983, as the country experienced a recession, the Merzins' renamed the company to Discount Office Equipment and moved to Berkley. This showroom provides new office furniture at a discount.
Three years later, they opened a second showroom specifically for used/previously owned and clearance furniture. This furniture was previously offered in the new furniture showroom, and for nearly 30 years has been located at the Oak Park showroom.